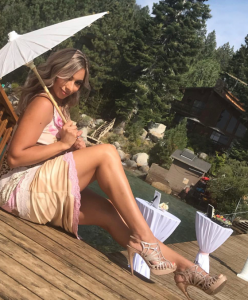 Hey Vibe nation, 
I'm Bella 🖤 I'm a proud first generation Mexican American from the SLT ( South Lake Tahoe ). I'm just a girl who followed her dreams into radio. I been on air with the 95.5 since 2016 and sometimes I still can't believe that I'm still ON AIR. You really like me 🖤 
It was time to update the bio since so many things have changed, I'm a mom to 2 beautiful baby girls. My Moon and My Star. I often talk about them on air and at times you will hear one of them have a meltdown on air. I'm a typical girly girl, I love reality TV, huge Bravo fan. Don't even get me started. We can talk for hours. I Love Jesus, traveling, concerts, shopping, reading, working out . I'll never say no to  Coffee ,vino and champagne, it's the fountain of youth. I'm always keeping up, except with the Kardashians. In other words I'm Basic AF. Yes, I also wear Uggs, it's my uniform like I said Basic. 
Music is my passion. I listen to everything from Taylor Swift, to Nirvana, Eminem to Vicente Fernandez.
I believe music is life, it gets you through whatever you are going through. It also takes you back to those moments in life. It's exciting, it's calm, it's sad. It's everything 🖤
---
ALL ABOUT THE TEA!!!!
#NOTTHETEAYOUSIPON